When it comes to new technologies like cloud and quantum computing, the International Business Machines Corporation (IBM) is at the forefront. Numerous job openings and professional advancement possibilities are available at the company. Therefore, we will discuss IBM's job functions, openings, the application process, IBM fresher compensation, and benefits in order to offer the pathway for getting into IBM.
Moreover, the corporation is well known for pcs, laptops, and their hardware since the 1970s. This sounds like a fantastic opportunity to launch a stellar career, so let's talk about how to get hired by IBM.
1

Targeted Individuals for IBM Jobs

So many of us have long envisioned ourselves working for the most prestigious computing corporation in the world. Those who are interested in a new profession in IT and are looking for an IBM salary for freshers that is reasonable are encouraged to apply. In addition, IBM is always interested in hearing from talented individuals who can bring new ideas, work hard, and show initiative. Our next discussion will be on IBM company application steps. Enroll in Java Training in Chennai with SLA Institute to set yourself apart as the most qualified candidate in your field.
1.1

Process for Seeking Employment at IBM as a New Employee

IBM accepts interview and application materials via the following two channels:

Applying over the Internet requires the candidate to complete an online form and upload any supporting materials. When an application is received, the applicant will receive an acknowledgment form and then, a few weeks later, they will hear from HR.

Applicants can also submit their information offline and then schedule an interview at one of their local placement locations.
Candidates will be notified by email of their interview dates, locations, and times once their applications have been received.

Having established a foundation for entering the IBM application process, we can now examine the specific requirements for each position. New applicants to IBM are expected to meet minimum requirements.
1.2

Required Educational qualification

B.E/B.Tech Branches

Information Science and Engineering / Information Technology

Computer Science Engineering / Computer Engineering

Electronics and Communication Engineering

Electronics and Instrumentation Engineering

Electronics and Telecommunication Engineering

Electrical and Electronics Engineering

Information and Communication Engineering

PG Courses

Master of Computer Application
1.3

Required Skills

Programming language skills such as Java, HTML, Python, C, C++, etc

Networking skills

Problem-Solving Skills

Analytical Skills

Effective abilities in verbal and nonverbal communication

Team collaboration skills

Interpersonal skills

The competencies that we have discussed up until this point are not only crucial, but also rather standard prerequisites for entry into the information technology industry. Therefore, new graduates who are interested in working with IBM must have a thorough understanding of the job description and the abilities that are listed. As a result, check to see that you have successfully finished the certification course that they suggested. You have the option to take any challenging class. You can, for instance, enroll in Python Training in Chennai in order to gain an understanding of the fundamentals of Python programming, as well as strings, tools, frameworks, and other important ideas.
1.4

The Procedure for Recruitment

IBM typically holds three to four rounds. Most importantly, the number of interview rounds is determined by the position that you are interested in applying for. Now we will go over the standard interview process:

Written Round

Technical Round

HR Round
1.5

Written Round

During this round, you should be prepared to answer questions drawn from the English Assessment Test as well as the General Aptitude Test. Questions on coding and decoding, profit and loss, numerical relations and reasoning, data interpretation, and other topics are likely to be included in the general aptitude test.
1.6

Technical Discussions

You should be prepared to answer questions pertaining to data structures and algorithms, object-oriented programming ideas, operating systems, database management systems, networking, and a programming language of your choosing. In addition, you need to concentrate on the fundamental concepts that are associated with your degree.
1.7

HR Round

After advancing through the previous two rounds, you will be allowed to participate in this round. During this stage of the process, the recruiter will ask broad-based questions.

You can enroll in Selenium Training in Chennai if you want to become a selenium tester, and throughout this training, you will gain familiarity with fundamental ideas such as Selenium IDE, Selenium WebDriver, Selenium Grid, and many more.
2

Employment Opportunities Available at IBM

Application Developer, Data Engineer, Technical Manager, Senior Consultant, Associate Network Support, Project Management Officer, Cloud Application Specialist, Security Consultant, Security and Privacy consultant, Application Developer: EAI, SW Technical Sales Specialist, SAP ABAP, Reporting Analyst, Application Developer: Application Database Administrator, Java Full Stack developer, Senior Consultant for Hybrid Data Management, and Data management- Oracle, SQL etc.

In addition, both recent graduates and seasoned professionals can start their careers in a variety of technical and non-technical areas at IBM, which offers a multitude of job prospects. In addition, you will be notified of new job openings for positions such as Associate Network Support, Security and Privacy consultant, Test Specialist, Infrastructure Specialist, and many more. Fresh graduates have several job openings to choose from all of these numerous employment prospects.
2.1

Application Developer

Candidates who are interested in working for IBM and receiving a competitive starting pay must be able to satisfy the following requirements. Application developers, often known as software developers or software architects, are the individuals who are tasked with the responsibility of writing and modifying the source code for various software applications. Customers who need assistance with computer activities or programs can turn to these applications for assistance. Given the importance of the position, IBM anticipates that applicants will demonstrate a high level of expertise in Oracle, as well as in software programming, design, and application development.
2.2

Programmer

Programmer Freshmen who are interested in programmer roles with a fine IBM fresher salary are likely to have the following skills: proficiency in programming languages such as Java, J2EE, C++, XML, and Python; real-world experience in web-based applications such as JSF, Wicket, GWT, and MVC; and excellent problem-solving skills.
2.3

Software Engineers

Software engineers are responsible for the design, construction, and testing of computer software applications. They achieve this by applying the principles and procedures of engineering, mathematics, and computer science. IBM's new software engineers are expected to have a variety of desirable talents, including expertise in Java, Python, Selenium, and other platforms; outstanding computer and coding skills; and relevant experience in software management and software engineering.
2.4

SAP Consultant

SAP consultants collaborate with businesses to plan, create, and execute SAP solution implementations. They analyze the client's business requirements, construct individualized SAP solutions, and integrate SAP applications with the client's existing IT infrastructure. SAP consultants have the option of working for a corporation or working independently as consultants. IBM expects newer applicants to have high-level abilities, including SAP Certification, expertise in finance and project management, and knowledge of SAP systems, deployment, and integration. Newer applicants must have these talents in order to be considered.
2.5

Software Developer

The duties and responsibilities of a software developer are established in advance based on the requirements of the company, organization, or team for which they work, which in turn defines their IBM Company Salary for Freshers. A few individuals are responsible for the development and upkeep of various network systems and devices. Others develop software that, when installed on computers, mobile phones, or other devices, enables users to successfully carry out a variety of tasks. IBM expects its software developers to have major talents such as fluency in important programming languages, expertise in full-stack development, understanding of software development projects, and development of the software life cycle.
2.6

Data Engineer

A Data Engineer is a data expert who uses their expertise of data engineering and programming to design systems that can gather, process and transform raw data into information that can be used by business analysts. The following list of desirable abilities, including Data Modeling, Database Structures, MySQL Database, and Data Mining, are expected to be had by the applicants: Java, Python, and Data Mining.
2.7

Technical Consultant

Technical consultants offer their assistance to organizations in the areas of information technology in order to help those businesses become more productive. Installing hardware and software solutions, improving information technology systems, and resolving technical challenges are all part of their responsibilities. They are able to work either as independent freelance consultants or as in-house consultants for a corporation. Newer applicants to IBM are expected to have knowledge related to both hardware and software networking, as well as experience maintaining internal error logs, data protection, and safety.
3

Starting Wage at IBM for New Employees

The IBM Package for Freshers is tailored differently for novices and more seasoned professionals alike. It also differs depending on the applicant's appropriate skill set and the number of years of relevant practical experience they have.

The starting compensation for a new hire at IBM is between two and three lakhs per year. The starting salary for entry-level employees at IBM is entirely determined by the candidate's previous experience, qualifications, and skills. Your starting salary will be different from that of the other students if you are a first-year student and have an additional qualification that is related to the degree. On the other hand, the amount of money you make could be different depending on how much experience you have. Therefore, improve your talents and increase your earnings. The average beginning wage for new hires at IBM is between 3 and 3.5 lakh Indian Rupees per year. The following chart provides a representation of the roughly estimated starting salary for new employees at IBM Corporation.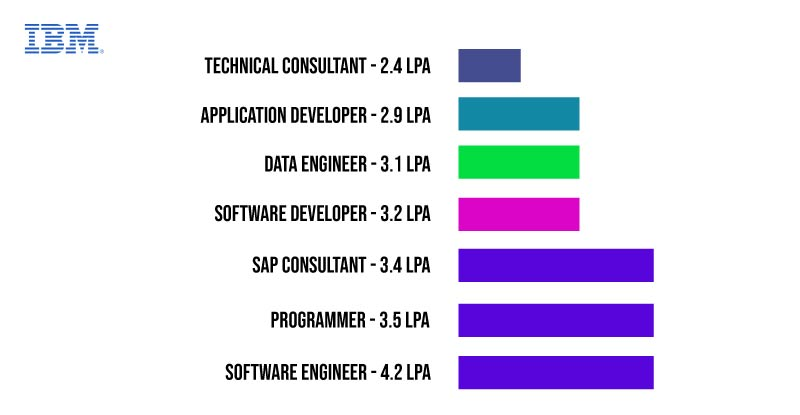 Sign up for the Artificial Intelligence Course in Chennai right away to improve your chances of landing a job that pays more and to gain new skills. The training leads to increased compensation interest across the board in the information technology industry.