Big Data and Hadoop Training Institute in Chennai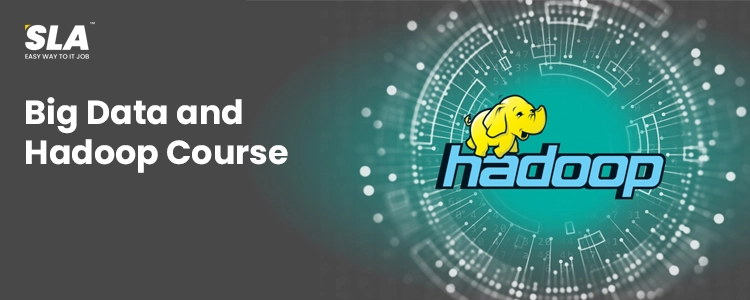 Enroll in Big Data Hadoop Training in Chennai and become a master in the Hadoop Ecosystem. It can be learned by any working professionals from Java, ETL, Analytics, Testing, and Data Warehousing background. Big Data Hadoop has a wider opportunity to work in data analytics firms such as IBM, Google, Amazon, Facebook, etc. Join the best Big Data Hadoop Training Institute in Chennai and call us to know more about the course benefits.
Expedite your career with Big Data Hadoop Course in Chennai
Welcome to the leading Big Data Hadoop Training Institute in Chennai. We are extremely dedicated to serving you better. We present the comprehensive Big Data Hadoop Training in Chennai that covers the major components HDFS, MapReduce, Sqoop, Pig, Hive, etc with live practical exposure. Learn the Big Data Hadoop Certification Training in Chennai from domain experts with recent updates and hands-on practice on real-time problems.
The study of Big data helps users to analyze insights for making profitable decisions that lead to strategic business moves.
It involves retrieving data from various resources to find the solution for cost reduction, time reduction, development, and deployment of a new product, optimized offering, and smart decision-making.
We provide the best Big Data Hadoop Training in Chennai by our expert trainers with industry-relevant course content.
Best Big Data Hadoop Training in Chennai
Big Data Hadoop Course in Chennai provided by SLA is useful to the professionals to work efficiently in complicated data sets which are tedious tasks with the legacy systems. Hadoop is the product of Apache that simplifies the traditional process of storing and retrieving a big volume of data with the use of other Apache tools and techniques.
The importance of learning big data depends on how we are doing and what purpose the result will be used for an organization or individual user. It involves some fundamental processes like determining the root cause of issues, generating coupons as per customer interests, calculating portfolios, and detecting fraud that affects the organization, and so on. Our curriculum covers all the necessary concepts to provide the best-in-class Big Data Hadoop Course in Chennai.
About Big Data Hadoop Training Institute in Chennai
SLA Institute is the top Big Data Hadoop Training Institute in Chennai, India which is well known for delivering effective training and placement support. SLA brings out the Big Data Course in affordable Big Data Hadoop Training Cost in Chennai. To put it simply, if big data is a problem, then Hadoop is the solution. Hadoop helps in storing, handling, and retrieving a significant amount of data in varied applications. You can also use Hadoop for deep analytics. SLA's Big Data Hadoop Training in Chennai will help you in comprehending the essential concepts of Hadoop.
Our Big Data Hadoop Course syllabus includes fundamental to advanced concepts used for organizations to manage and manipulate insights that transform business failure into a grand success. We train our students to have practical implementation of well-framed theoretical concepts through our Big Data Hadoop Training Institute in Chennai.
Our Big Data Hadoop certification training in Chennai helps you to gain in-depth knowledge in data integration, data analytical strategy, Data Lake, data warehouse, analytics ecosystem, etc to be used efficiently in trending technologies like Artificial Intelligence, Machine Learning, Deep Learning, Cloud Computing, Data Analytics, Data Science, IoT device process, and so on.
How Hadoop simplifies Big Data Process?
The ApacheTM Hadoop® is an open-source application used for scalable, secured, and distributed cloud computing. Hadoop framework allows the users to process big data sets around the global computer systems using simplified programming models. It offers storage and computation with a wide range of scalability from a single server to millions of machines.
Our Big Data Hadoop Training in Chennai with placement makes the students deliver high-available service to the cluster computers using a keen understanding of the application layer and dedicated libraries. Hadoop modules such as Hadoop Common, Hadoop Distributed File System (HDFSTM), Hadoop YARN, and Hadoop MapReduce are used widely in top companies for research and production. We train the students in these modules with elaborate teaching on a theoretical and practical basis in our Big Data Hadoop Certification Training in Chennai.
Hadoop has recently released the latest update 2.10.1 with the major changes such as WebHDFS access as a proxy server, Hadoop metrics sink for Graphite, and Hadoop Compatible File System (HCFS) for specification work is in Hadoop Common Module. Extended attributes, OfflineImageViewer, NFS gateway, Secondary NameNode JournalNode, and DataNoden web UI are in the HDFS module. YARN REST API, timeline store, and Fair Scheduler are in the Hadoop YARN module. We have updated the Hadoop application in our lab systems for practicing as per the industry requirements through our all-inclusive best Big Data Hadoop Training in Chennai.
SLA Academy has expert and experienced trainers to provide comprehensive coaching in all required concepts with hands-on exposure. We offer study material, unlimited lab hours, free software installation, case studies, periodical assessments, and project practices through our industry-relevant Big Data Hadoop Course Syllabus.
We have a dedicated placement cell to equip the students with job-ready skills such as resume writing skills, job searching skills, communication skills, and personality development through instructor-led online and in-person modes of classes in our Big Data Hadoop Training Institute with Placement Assistance.
Big Data Hadoop Training in Chennai with Placement
Our Big Data Hadoop Course in Chennai aims to provide detailed training on Hadoop concepts with real-world experiences for the career advancement of students around the world in the Big Data field. You can learn Big Data with the Hadoop tool to market new products in the market with the benefits of connecting consumers, increase consumer value, and minimize risks. We make you proficient with Hadoop Common, HDFS, YARN, and MapReduce and equip you with data mining, Hadoop structure, deployment, and cluster environment.
SLA Jobs is a leading Big Data Hadoop Training Institute in Chennai that provides expert coaching to analyze and work on big data to generate the report for better decision-making. We train students to learn, understand, and implement big data analytics with the Hadoop tool that includes modern computing, machine learning techniques, and scaling up machine learning approaches used for industrial applications.
Our Hadoop Curriculum consists of conceptualization, summarization, and cloud computing technologies, and scaling up ML processes with the hands-on practices of characteristic identification of datasets, machine learning implementation, scalability issues, model parameters, and statistical tools. Our Big Data Hadoop Course in Chennai focusing global students through virtual and in-person mode with complete hands-on exposure.
At the end of the course in our Best Big Data Training in Chennai, one can able to,
Master in HDFS
 Expertise in YARN (Yet Another Resource Navigator)
 Perform efficiently on working with Hadoop storage and management
 Understand MapReduce Framework to handle complex business solutions
 Working with data ingestion technique effectively
 Perform well on ETL operations and data analytics
 Schedule jobs with Oozie and integration with Hive
 Working with Apache Spark and its ecosystem
 Working efficiently with real-time Hadoop cluster
Who can attend our Big Data Training in Chennai?
Eligibility considered for our Big Data Hadoop Course in Chennai will be different based on the interests and skill level of learners. Freshers and experienced people can learn efficiently as our Hadoop Curriculum covers from fundamental to advanced concepts which can be personalized as per the requirements of students. Any aspirant can get trained to become a big data engineer for better placement in top companies through our industry-required skill development Hadoop Training in Chennai.
The following professionals can learn Big Data Hadoop Course in Chennai
 Analytics Professionals
 Business Intelligence, ETL, Data Warehousing Professionals
 Mainframe Professionals
 Testing Professionals
 Software Developers
 Project Managers
 Architects
 System Administrators
 Data Management Professionals
 Senior IT professionals
 Candidates interested in becoming Data Scientists
 Freshers (Btech, BE, BCA, Mtech, ME)
Prerequisites for learning at the Big Data Hadoop Training Institute in Chennai
No specific prerequisites are needed for attending Big Data Hadoop Course as we have a customized course curriculum to provide in-depth coaching for the interested students. We provide study materials, case study practices, periodical assessments, software installments, and project experiences along with required job-ready skills in our Big Data Hadoop Training Institute in Chennai.
Freshers require no prior knowledge as they will learn from basics and experienced people require some basic knowledge in Java, SQL as an added advantage. If anyone wants to learn in fast track mode, foundation concept knowledge is mandatory as our trainers examine the skill level and frame the content as per needs.
Big Data Hadoop Course Fee in Chennai
Big Data Hadoop is the fast-paced growing technology that many students willingly enrolled at SLA with the customizable Hadoop Course Duration. Get into the small batches to obtain the comprehensive classes on BIg Data Specialization Training in Chennai at SLA.
This is an approximate Big Data Hadoop course fee and duration for Big Data Hadoop. Please contact our team for current Big Data Hadoop course fee and duration.
Big Data Hadoop Course Syllabus
The Big Data Hadoop course curriculum from the Best Big Data Hadoop training institute in Chennai is framed according to industry expectations. We concentrate both on basic and advanced concepts of Big Data Hadoop. Keeping abreast of the changing trends in technology, our syllabus is both fresh and best.
High-Level Hadoop Training Syllabus
Installation and Setup of Hadoop Cluster
Mastering HDFS (Hadoop Distributed File System)
MapReduce Hands-on using JAVA
Big Data Analytics using Pig and Hive
HBase and Hive Integration
Understanding of ZooKeeper
YARN Architecture
Understanding Hadoop framework
Linux Essentials for Hadoop
Mastering MapReduce
Using Java, Pig, and Hive
Mastering HBase
Data loading using Sqoop and Flume
Workflow Scheduler Using OoZie
Hands-on Real-time Project
Big Data Hadoop Internship Training in Chennai – Get Started
Learn the most sought skills with the practical implementation at our Big Data Hadoop Internship Training Institute in Chennai. Master in Big Data with major concepts such as cluster, HDFS, MapReduce, Analytics, HBase, Hive, Zookeeper, YARN, Linux fundamentals, Sqoop, and Flume along with the skills to work for the following responsibilities efficiently.
Important Roles and Responsibilities of the Big Data Hadoop Engineer
Proficient in the documentation, design, development, and architecture of Hadoop applications
Manage the installation, configuration, and support of the Hadoop app.
Generate MapReduce coding for Hadoop clusters; assist co-workers to build new Hadoop clusters
Convert complicated techniques and functional requirements into the understandable and detailed designs
Design and develop web applications for data querying and change data tracking with higher speeds
Present effective planning and standards to handover the operations
Implement testing on software prototypes and shift them to the operational team
Apply Pig and Hive for pre-processing of the big data
Handle data security and privacy of big data
Manage and deploy HBase
Perform and analyze big data stores and derive insights
Quicken your career scope in Big Data Hadoop Internship Training in Chennai as the demand for skilled and certified professionals rises for all the sectors around the world.
Projects to practice:Health care Data Management using Apache Hadoop ecosystem
Description: Hadoop is an open-source framework for processing Big data to store and analyze data parallely through clusters. It contains two main components: Hadoop MapReduce and distributed file system. It is used in healthcare for the data management
Projects to practice: Automated RDBMS Data Archiving and Unarchiving using Hadoop
Description: Table prefix that is used by temporary objects and it automatically deleted in most cases. It even multiple different version of some particular data format across different time periods
Learning gives the ability to adopt a change effectively. Enroll at SLA.
User Reviews on Big Data Hadoop Course in Chennai
Some Frequently Asked Questions
Big Data Hadoop is the on-demand skill in which numerous commonly asked questions arise time-to-time. Here we give some of the frequently asked questions that could be the answer to your queries.