MCSE Training Syllabus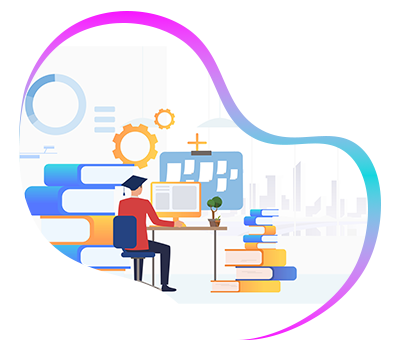 Whether you're just starting out in your career or have years of experience under your belt, SLA can help you develop the skills you need to become a Microsoft Certified Solutions Expert so that you can design and implement an organization's infrastructure that supports the implementation of custom business solutions built on the Microsoft Windows Server System. Candidates who complete our MCSE Course in Chennai will be prepared for positions as diverse as IT Manager, System Admin, System Engineer, IT Consultant, Team Leader, and Windows Server Manager thanks to the practical experience they gain.
In order to ensure that you are prepared for success in the business world, we offer complete learning support based on the world-renowned MCSE Course Curriculum. The instructor at SLA, the best MCSE Training Center in Chennai adopts a all-inclusive MCSE Training Curriculum that combines theoretical concepts with practical examples and exercises. The instructor does an excellent job of conveying both academic and practical topics. The various server configurations and security measures are covered in depth throughout the MCSE Training Syllabus.
MCSE Training Syllabus
Microsoft certified Solution Expert (MCSE) – 70-410
Types of Server Os & Edition comparison

Types of Server, Domain & DC configuration

AD Object

Log on To & Log on Hours

Client configuration

DHCP server

RRAS Server

Web Server

Print Server

Hyper-v

Home Folder

Disk Quota

Shadow copy

System State Backup

Server Core

MBR & GPT

NTFS permission

Windows Firewall

Ip address & subnetting

GPO
70-411
WDS & WSUS Server

Monitor Server performance

DFS

FSRM

Configure Disk Encryption

Audit Policy

Configure Primary and Secondary Zone

DNS Resource Record, NAT Server

RADIUS Server

VPN Server

Seize operation Master Role

Additional Domain controller

RODC

AD Recycle pin

RSOP

GPO Backup and Restore

GPO Software Deployment

GPO Network drive mapping
70-412
BMR backup

DHCP super scope

DHCP Fail over cluster & Split scope

DNSSEC

AD Trust

Configure site and Sub net

site link

Move Domain controller between sites

AD Certificate Authority

ADRMS Server

Manage fail over cluster

Vmware migration
70-413
Windows Assessment deployment kit

Microsoft Azure, WDS Multicast

Stand Alone WDS, Plan for migration

migration server roles

Design DHCP Split scope & Failover cluster

DHCP database

DNSSEC

Firewall configuration

ADCA

ADFS
70-414
AD performance & monitor

network priority setting

Plan and configuration NLB

AD Restore & recycle pin

ADFS

ADLDAP
The MCSE Course Syllabus is developed by the trainers in order to match the instruction to the student's current knowledge and abilities. In addition, we provide ample opportunities to learn about the complete MCSE course syllabus in a practical way and in case study formats.
Are you pleased with the MCSE training syllabus? If you want to advance your career and earn a competitive salary, then you should join SLA right away.