CCNA Course Syllabus | CCNA Training Syllabus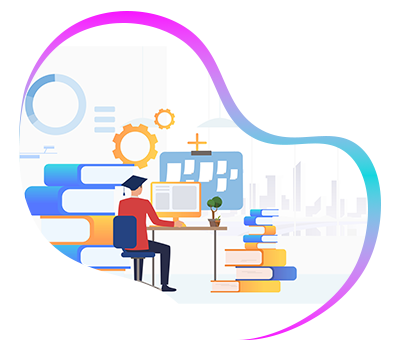 Join Softlogic's CCNA Course in Chennai to acquire expert-level knowledge of networking and security skills. CCNA Course Syllabus was developed by our professional instructors to give students a solid foundation in all things networking-related. CCNA Course Syllabus covers routing and switching, IP connectivity, IP services, security basics, Automation and Programmability, and more. We train everything from fundamentals to cutting-edge strategies within our CCNA training syllabus in Chennai. This CCNA certification course is offered with hands-on training and valuable networking opportunities. Our knowledgeable instructors will be there to help you at every step of the program.
Our regularly revised CCNA course syllabus has been validated by leading IT firms.  Our goal is to teach students the ins and outs of the networking environment and proper configuration so that they may enter the field and succeed. If you're looking for a reliable CCNA training program in Chennai with an expertly crafted CCNA Course Syllabus, go no further than Softlogic Systems.
CCNA Course Syllabus
Network Fundamentals
Role and function network components

Network Topology architectures

Physical interface and cable types

Identify cable issue Compare TCP and UDP

IPv4 Classes and Sub netting

IPv6 address information

Verify IP parameter

Virtualization fundamentals
Network Access
Switch and Types of switch

Function of switch

MAT

L2 & L3 difference 

Switching Mode.

Switch initial configuration

Configuration mode and assigning password

 VLAN single and multiple switch configuration

Access port and Trunk port configuration

 Inter-VLAN or 802.1Q

 Ether channel configuration

 STP

Rapid PVST
IP Connectivity
Interpret the components of routing table

IPv4 and IPv6 Static Routing

Default route

Floating static Route

 OSPFv2
IP Services
Nat configuration

DHCP client and Relay Agent

DNS

TFTP and FTP Server
Security Fundamentals
Configuration of password

Remote access and site-site VPN

ACL

Switch port security

AAA Security
Automation and Programmability
Automation impact network management

Compare traditional network and controller-based network

Control plane and data plane

Cisco DNA center
Our CCNA Course Syllabus is quite updated right? It is very advantageous to get a high-paying job in a top multinational company. Think right and Act straight. Enroll Now in Softlogic CCNA training in Chennai.