VBA Macros Training Syllabus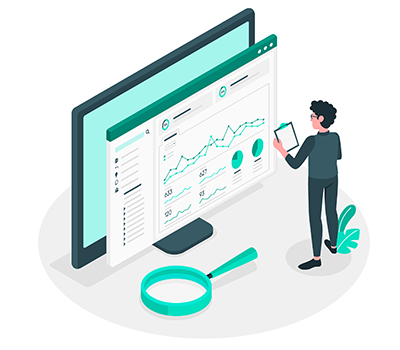 SLA, the top VBA Macros Training Institute in Chennai, educate students on both the fundamentals and advanced of Excel. The objectives of the VBA Macros course curriculum have been customized to meet the particular requirements of the students. The VBA Macros Training syllabus will make you a more efficient and effective user of Excel.
The Advanced Excel and VBA Macros Course Syllabus at SLA Jobs was created by real-world industry experts who keep tabs on emerging trends in the field to ensure that trainees have the information they need to succeed in the workplace upon completion of the program.
VBA Macros Course Syllabus
Excel Introduction Customizing Excel
Customizing the Ribbon

Using and Customizing AutoCorrect

Changing Excel's Default Options
Using Basic Functions
Using Functions – Sum, Average, Max,Min, Count, Counta

Absolute, Mixed and Relative Referencing
Formatting & Proofing
Formatting Cells with Number formats, Font formats, Alignment, Borders, etc

Basic conditional formatting
Mathematical Functions
SumIf, SumIfs CountIf, CountIfs AverageIf, AverageIfs
Protecting Excel
File Level Protection

Workbook, Worksheet Protection
Text Functions
Upper, Lower, Proper

Left, Mid, Right

Trim, Len, Exact

Concatenate

Find, Substitute
Date & Time Functions
Today, Now

Day, Month, Year

Date, Date if, DateAdd

EOMonth, Weekday
Lookup Functions
Vlookup / HLookup

Index and Match

Creating Smooth User Interface Using Lookup

Nested VLookup

Reverse Lookup using Choose Function

Worksheet linking using Indirect

Vlookup with Helper Column
Pivot Tables
Creating Simple Pivot Tables

Basic and Advanced Value Field Setting

Classic Pivot table

Grouping based on numbers and Dates

Calculated Field & Calculated Items
Arrays Functions
What are the Array Formulas, Use of the Array Formulas?

Basic Examples of Arrays (Using ctrl+shift+enter).

Array with if, len, and mid functions formulas.

Array with Lookup functions.

Advanced Use of formulas with Array.
Advanced Paste Special Techniques
Paste Formulas, Paste Formats

Paste Validations

Transpose Tables
New in Excel 2013 / 2016 & 365
New Charts – Treemap & Waterfall

Sunburst, Box and whisker Charts

Combo Charts – Secondary Axis

Adding Slicers Tool in Pivot & Tables

Using Power Map and Power View

Forecast Sheet

Sparklines -Line, Column & Win/ Loss

Using 3-D Map

New Controls in Pivot Table – Field, Items and Sets

Various Time Lines in Pivot Table

Autocomplete a data range and list

Quick Analysis Tool

Smart Lookup and manage Store
Sorting and Filtering
Filtering on Text, Numbers & Colors

Sorting Options

Advanced Filters on 15-20 different criteria(s)
Printing Workbooks
Setting Up Print Area

Customizing Headers & Footers

Designing the structure of a template

Print Titles –Repeat Rows / Columns
What If Analysis
Goal Seek

Scenario Analysis

Data Tables (PMT Function)

Solver Tool
Logical Functions
If Function

How to Fix Errors – iferror

Nested If

Complex if and or functions
Data Validation
Excel Dashboard
Planning a Dashboard

Adding Tables and Charts to Dashboard

Adding Dynamic Contents to Dashboard
Charts and slicers
Various Charts i.e. Bar Charts / Pie Charts / Line Charts

Using SLICERS, Filter data with Slicers

Manage Primary and Secondary Axis
Our Advanced Excel and VBA Macros Training Curriculum provides students with ample opportunity for hands-on practice, allowing them to become proficient in the areas of program design, implementation, and debugging. The greatest VBA Macro and Advanced Excel Training in Chennai can be found at SLA, where you can also get in-depth instruction from industry professionals. Join Now.