CompTIA N+ Training Syllabus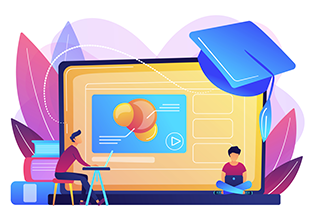 During our CompTIA N+ Training in Chennai, you may learn how the Networking platform can greatly improve your IT career in terms of both employment prospects and pay grade. We will help you study for the certification exam and gain the knowledge and experience you need to succeed in the IT business by providing full learning support based on the comprehensive CompTIA N+ Course Syllabus.
The goal of our CompTIA N+ Training in Chennai is to equip you with an in-depth knowledge of today's networking technology and the skills to solve today's complex IT issues. Essential security ideas for aspiring network administrators are included in the CompTIA N+ Training Syllabus. 
These ideas will aid in the development of secure networks, the implementation of cloud computing with standard service models, the adoption of cutting-edge hardware and virtualization methods, and the maintenance of a flexible and reliable infrastructure. At our N+ Training Academy in Chennai, we've tailored the CompTIA N+ course curriculum to reflect the needs of the IT sector at large.
Basic Network Theory
Network Definitions

 Network Models

 Connectivity

 Network Addressing

 Signaling Concepts
Network Connectivity
The Data Package

 Establishing a Connection

 Reliable Delivery

 Network Connectivity

 Noise Control

 Building Codes

 Connection Devices
Advanced Network Theory
The OSI Model

 Ethernet

 Network Resources

 Token Ring/IEEE 802.5

 FDDI

 Wireless Networking
Common Network Protocols
Families of Protocols

 NetBEUI

 Bridges and Switches

 The TCP/IP Protocol

 Building a TCP/IP Network

 The TCP/IP Suite
TCP/IP Services
 Dynamic Host Configuration Protocol

 DNS Name Resolution

 NetBIOS Support

 SNMP

 TCP/IP Utilities

 Upper Layer Services: FTP
Alternate Network Protocols
Introduction to IPX/SPX

 AppleTalk

 Introduction to Apple Open Transport

 Introduction to IPv6
Network LAN Infrastructure – Implement LAN Protocols on a Network
IP Routing

 IP Routing Tables

 Router Discovery Protocols

 Data Movement in a Routed Network

 Virtual LANs (VLANs)
Network WAN Infrastructure
The WAN Environment

 WAN Transmission Technologies

 WAN Connectivity Devices

 Voice Over Data Services
Remote Networking
Remote Networking

 Remote Access Protocols

 VPN Technologies
Network Security
Introduction to Network Security

 Virus Protection

 Local Security

 Network Access

 Internet Security
Disaster Recovery
The Need for Disaster Recovery

 Disaster Recovery Plan

 Data Backups

 Fault Tolerance
Our qualified instructors developed this CompTIA N+ Training Curriculum specifically for you. Our comprehensive CompTIA N+ Course curriculum is geared toward helping you succeed on the N+ exam. Invest in your future success by joining SLA today.